Open May 1 - October 31

See reviews, along with lots of photos, on our Facebook page.



New for 2017:
6 new pull-through water/sewer/electric sites; 9 new riverside water/electric sites;
a new bathroom and dish washing station at the north end;
and we've remodeled the existing bath house!


We also offer:
30 and 50 amp W/S/E sites

30 and 50 amp W/E sites

Pull-through sites available

Big rig friendly

Riverside and wooded tent sites - some plenty big for pop-ups and RVs who don't require electric and sewer

Two dump stations

Three rustic cabins that sleep 1 - 4

Free wi-fi available

Game room with pool table, foosball, ping-pong, air hockey

Laundry room

Camp store with firewood, ice, and incidentals

Clean bath house with free hot showers and heat when we need it

Help with planning your hiking, biking or boating adventure

Shuttles up river for canoes and kayaks; shuttles for bikes to rail trail access points

Plenty of open space, peace and quiet

Please call with your questions about accessibility.
Ashuelot River Campground is situated at the heart of the Monadnock Region, offering easy access to great biking on rail trail, roads and woods; canoeing on the river; hiking trails of varying lengths, including Mount Monadnock – reputed to be one of the most climbed mountains in the world – and many local trails to ponds and smaller hills, plus easy access to the city of Keene for shopping, sports and music events and other entertainment. Check out the Activities and Nearby Attractions page for a comprehensive look at all that is available.



Our campground sits on the banks of the Ashuelot River in Swanzey, New Hampshire, between Keene and the mouth of the river. We have 22 acres of land with 3600 feet of riverfront, abutting a beautiful town forest with direct access to the Ashuelot Rail Trail.



Many sites are grassy and open to the summer skies and stars; some are tucked in a secluded patch of white pine woods. We offer something for everybody.


ALSO NEW FOR 2017: Time Saver Weekends!
Visit back-to-back without towing.
Mid-April through Memorial Day, and Labor Day through the end of October, stay two nights each on back-to-back weekends for regular price and leave the trailer here during the week for $20.00.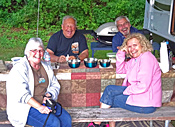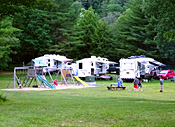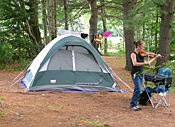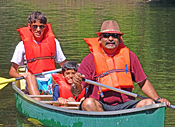 Ashuelot: a Penacook word meaning "place between"; pronounced "ash-WHEEL-ot". The Ashuelot River flows 64 miles from its origin in Pillsbury State Park to the north and feeds the Connecticut River to our south in Hinsdale, New Hampshire. For more information about the river, click here (a PDF document).




Your hosts, Chuck and Laura Mills
We are working hard to maintain a quiet, peaceful place where your comfort is our highest priority; from where we can see you venture forth - in boats on the river, bikes on the rail trails, hiking the hills and forests of the region - or where we can help you to find the quiet, sedentary hours that you seek for renewal. In the short time we've been stewards of the place, we have made many improvements, and the list is long for future projects. The feedback and suggestions of our many returning guests have been instrumental in our efforts to improve and define our little slice of heaven on the Ashuelot. Among the many pleasures of our experience are the many new friendships we can claim as guests return time after time. We are very grateful for the support, and look forward to sharing the place with you and your family.


From our family to yours, we look forward to serving you!